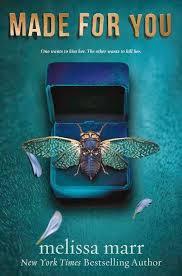 Title: Made For You
Author: Melissa Marr
Pages: 368
Genre: Young Adult Paranormal Thriller
Publisher: HarperCollins
Publication Date: September 16th 2014
Synopsis via Goodreads:
When Eva Tilling wakes up in the hospital, she's confused—who in her sleepy little North Carolina town could have hit her with their car? And why? But before she can consider the question, she finds that she's awoken with a strange new skill: the ability to foresee people's deaths when they touch her. While she is recovering from the hit-and-run, Nate, an old flame, reappears, and the two must traverse their rocky past as they figure out how to use Eva's power to keep her friends—and themselves—alive. But while Eva and Nate grow closer, the killer grows increasingly frantic in his attempt to get to Eva.
For the first time, New York Times bestselling author Melissa Marr has applied her extraordinary talent to contemporary realism. Chilling twists, unrequited obsession, and high-stakes romance drive this Gothic, racy thriller—a story of small-town oppression and salvation. Melissa's fans, and every YA reader, will find its wild ride enthralling
.
The one thing lacking in young adult literature today is a strong thriller/mystery genre. Now thanks to Melissa Marr we FINALLY have a new much needed, fast paced, creepy, intriguing thriller to add to this genre. Melissa Marr's new southern gothic thriller is a chilling read that any mystery fan will love and I definitely suggest that Marr should write another thriller and soon!
The content of the book was twisted and spine tingling and that was one of the reasons it worked. Marr did not hold back and that is what really helped classify this book as a successful thriller. The book left you feeling a little nervous and on the edge at times just like a thriller is supposed to do. I never found the book bland or boring there was always some new twist or intrigue to pull you in more.
The way Marr wrote the story was a brilliant idea of how to write a thriller. She writes the book from three different points of view, Eva the protagonist, Grace the best friend, and the murderer. This really helped build the story and made it feel complete because you get to see the mystery unfold from the main character who is having these horrific things happen to her, a bystander who gets to watch the mystery happen to her friends, and the murderer who creates the horror. I loved that we got to see the murderers point of view. You do not get to see that a lot in books today and I think it should happen more often. Since we got to see the murderers point of view we get to learn about their background and their reasoning for the murders and I think that added so much more to the story itself. A quick warning for some who are a little nervous and queasy going into thrillers, since you read part of the story from the murderers perspective you do get to experience him murdering some of the victims. I also loved Marr's writing and pacing of the novel. I found it very fast paced but it didn't leave me frazzled and confused, it fully pulled me a long with the story.
The content of the book also made the book more complex and satisfying. Besides the mystery part you to experience power struggle and social class in a small elite southern town which is very caught up in family appearance. I thought this added great background to the story and helped bring up some interesting themes. I also liked how Marr had a full explanation for why the murderer started killing, what it meant, and what their goal was. The problem with some young adult thrillers today is that they come off as very one dimensional but with Marr's sub-plots, fully planned out storylines and justifications this a thriller that had no chance of falling flat.
I do have one critique though. In the story when Eva survives her attempted murder she develops this power to see ones death when she touches them. I personally thought this was unneeded in the story and didn't help the plot at all. If Marr had taken this detail out the thriller would have worked out just as perfectly. It seemed like something that was just thrown in to add something more to the book. And since the book is most importantly a true thriller the development of this new "power" was left behind in the development of the plot and was never truly explained.
Melissa Marr has done us all a favor by creating this chilling thriller which is sure to quench the thirst of any young adult thriller fan out there. If you love a good southern gothic thriller or want to try one out for the first time I highly recommend going and grabbing yourself of copy of Made For You.