Waiting on Wednesday is a weekly feature, hosted by Jill over at
Breaking the Spine
, where we get to showcase upcoming book releases we are eagerly anticipating!
This week I am waiting on...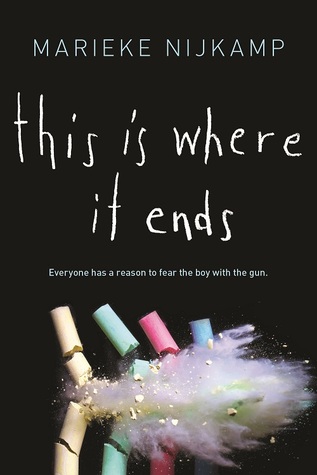 Genre: Young Adult Contemporary
Publisher: Sourcebooks Fire
The principal of Opportunity, Alabama's high school finishes her speech, welcoming the entire student body to a new semester and encouraging them to excel and achieve.
The students get up to leave the auditorium for their next class.
The auditorium doors won't open.
Told over the span of 54 harrowing minutes from four different perspectives, terror reigns as one student's calculated revenge turns into the ultimate game of survival.
COMING JANUARY 5th 2016
I love intense, heart wrenching and emotional reads. When I read the synopsis for This Is Where It Ends I knew I had to read it. Also, look at the cover! It is just fantastic. I was lucky enough to get an ARC of this book at BEA and was able to attend the authors signing. Marieke was super friendly and energetic. Being the clumsy person that I am her book went flying out of my hand across the aisle onto the ground. Of course, I just had to go and fling the authors book on the ground right in front of her. I was mortified. I am very excited to pick this one up in the next couple weeks and review it before it hits shelves.
What are you waiting on this week?
Tell me in the comments below!