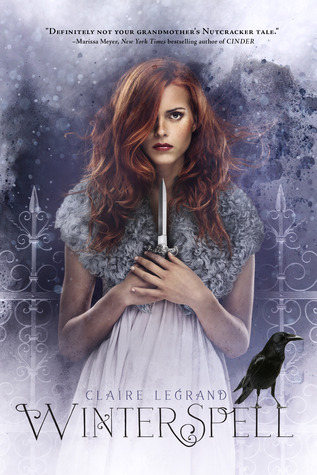 Author: Claire Legrand
Genre: Fantasy
Pages: 464
Publisher: Simon & Schuster
Publication Date: September 30th 2014
Synopsis via Goodreads:
The clock chimes midnight, a curse breaks, and a girl meets a prince . . . but what follows is not all sweetness and sugarplums.

New York City, 1899. Clara Stole, the mayor's ever-proper daughter, leads a double life. Since her mother's murder, she has secretly trained in self-defense with the mysterious Drosselmeyer.

Then, on Christmas Eve, disaster strikes.

Her home is destroyed, her father abducted--by beings distinctly not human. To find him, Clara journeys to the war-ravaged land of Cane. Her only companion is the dethroned prince Nicholas, bound by a wicked curse. If they're to survive, Clara has no choice but to trust him, but his haunted eyes burn with secrets--and a need she can't define. With the dangerous, seductive faery queen Anise hunting them, Clara soon realizes she won't leave Cane unscathed--if she leaves at all.

Inspired by The Nutcracker, Winterspell is a dark, timeless fairy tale about love and war, longing and loneliness, and a girl who must learn to live without fear.
When I heard this book was described as a dark retelling of the nutcracker I knew I had to get my hands on it. After finishing the book I am very glad to say that this book did not disappoint. I loved everything about this book. First shall we start off with how absolutely gorgeous that book cover is! But do not worry that gorgeousness does not go away once you flip open the book. The plot was intriguing, the characters were outstanding, and the setting was to die for.
My most favorite aspect of this book had to be the setting. It was spellbinding, magical, beautiful, and haunting. I am not a winter person and this setting made me want to go live in a world that snows year round, that is how good it is. I got so caught up in the land of Cane, once I opened a door and entered it I never wanted to step outside of the wonderfully shivering and mystical world. I also loved the back drop of 1899 New York City too. It always seemed as if NYC had a magical element to it as well.
Legrand also did a fantastic job with her characters. They are very complex and show great growth throughout the length of the story. The protagonist, Clara, is a strong but vulnerable badass who is a great role model for young girls. It always makes me so happy to see girls in YA being portrayed as strong individuals. Nicholas is not your average prince and that made him even better of a character. He is bound by a curse yet determined but just like the rest of the characters he is somewhat vulnerable. He and Clara complimented each other very well. Legrand mastered her characters so well that you even get caught up in the villainous queen, Anise. You can't help but be enthralled by Anise. Her character has such fascinating human behavior. Legrand made her characters so 3 dimensional that I am still thinking about them today,
The plot was fast moving, intriguing, and even surprising. I expected the story to be about a girl from an outside world helping a broken king take back his kingdom. Technically, yes, this is what the plot is about but there is so much more. I honestly saw this book to be Clara's story about her redemption and her version of Cane instead of Nicholas'. This is very much Clara's dark fairy tale.
If you love a good fantasy, are a Nutcracker fan, or are just looking for a wintery book to pick up this holiday season put Winterspell at the top of your TBR pile. This is a magical haunting tale of one girl's journey of self discovery in an unknown land.