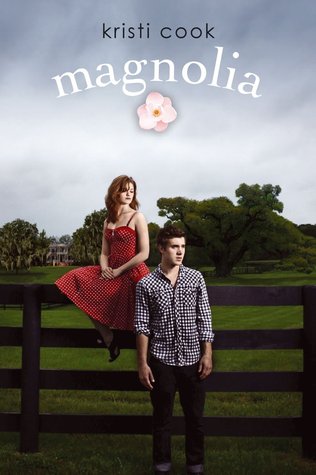 Author: Kristi Cook
Pages: 336
Genre: Young Adult Contemporary
Publisher: Simon and Schuster
Publication Date: August 5th 2014
Synopsis via Goodreads:
In Magnolia Branch, Mississippi, the Cafferty and Marsden families are southern royalty. Neighbors since the Civil War, the families have shared vacations, holidays, backyard barbecues, and the overwhelming desire to unite their two clans by marriage. So when a baby boy and girl were born to the families at the same time, the perfect opportunity seemed to have finally arrived.

Jemma Cafferty and Ryder Marsden have no intention of giving in to their parents' wishes. They're only seventeen, for goodness' sake, not to mention that one little problem: They hate each other! Jemma can't stand Ryder's nauseating golden-boy persona, and Ryder would like nothing better than to pretend stubborn Jemma doesn't exist.

But when a violent storm ravages Magnolia Branch, it unearths Jemma's and Ryder's true feelings for each other as the two discover that the line between love and hate may be thin enough to risk crossing over.
Magnolia is a sweet, romantic, and stormy read.
Going into this book I did not realize but it is actually somewhat of a backwards and modern retelling of Romeo and Juliet. It is split into three acts, as if it was a play. The acts are divided up as before, during, and after the storm. My favorite act was by far during the storm. In this act Ryder and Jemma are stuck in Jemma's house together while their parents are away during the tornados. During these pages you get to see Jemma and Ryder reconnect from all of those years of hatred and start to get to know each other and open up once again.
I really enjoyed Jemma and Ryder's relationship. It is always fun to read about romances that are hidden behind a wall of hatred. Ryder was my favorite character. He was definitely a swoon worthy book boyfriend. Jemma and Ryder obviously did not have a perfect relationship together. But it worked. They fight together and were good for one another.
I went into the book thinking it was going to be a fun, fluffy, chick book. In some ways it is but it also takes on a more serious feel. During the novel Jemma and her family start to go through some health scares which takes up a lot of Jemma's thoughts in the story. Also the storm is very devastating. Jemma and Ryder are very terrified and in the wake of the storm there is a lot of damage and some casualties. I was glad it took on a more serious nature because I thought it added more depth to the story.
Technically there is nothing wrong with this book to point out. It just ended up being one of those in the middle books for me. It was okay and I enjoyed parts of it. Honestly, I really enjoyed the scenes during the storm between Jemma and Ryder but was not invested in the other acts of the book. When I was finished I didn't have that satisfying moment. It was a short and romantic read but did not have anything special or stand out to me. Overall it was an easy, average, love story.