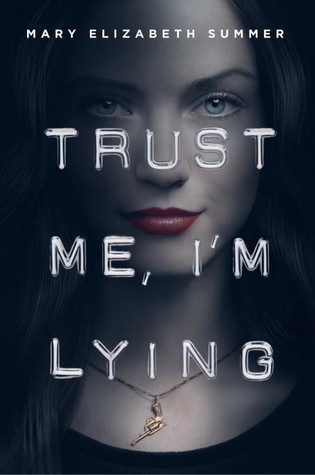 Author: Mary Elizabeth Summer
Pages: 336
Genre: Young Adult Thriller/Mystery
Publisher: Delacorte Press
Publication Date: October 14th 2014
Synopsis via Goodreads:
Fans of Ally Carter, especially her Heist Society readers, will love this teen mystery/thriller with sarcastic wit, a hint of romance, and Ocean's Eleven–inspired action.

Julep Dupree tells lies. A lot of them. She's a con artist, a master of disguise, and a sophomore at Chicago's swanky St. Agatha High, where her father, an old-school grifter with a weakness for the ponies, sends her to so she can learn to mingle with the upper crust. For extra spending money Julep doesn't rely on her dad—she runs petty scams for her classmates while dodging the dean of students and maintaining an A+ (okay, A-) average.

But when she comes home one day to a ransacked apartment and her father gone, Julep's carefully laid plans for an expenses-paid golden ticket to Yale start to unravel. Even with help from St. Agatha's resident Prince Charming, Tyler Richland, and her loyal hacker sidekick, Sam, Julep struggles to trace her dad's trail of clues through a maze of creepy stalkers, hit attempts, family secrets, and worse, the threat of foster care. With everything she has at stake, Julep's in way over her head . . . but that's not going to stop her from using every trick in the book to find her dad before his mark finds her. Because that would be criminal.
I was very excited to read this book. The first thing it says in the description above is that fans of Ally Carter's Heist Society will love this book. I love Ally Carter's Heist Society series. I added this to my TBR the moment I read that. But I did not love Trust Me, I'm Lying. Honestly I did not even like it that much.
The first thing that bothered me starting very early on in the book was that the main character Julep came off as very Juvenile. Not necessarily the things that she was doing, I mean she was a con and was trying to save the people she cares about, it was more how she talked, her thoughts, and just the general feel of her. She is a Sophomore in high school but at times I got the feel of somebody in middle school. This will probably not bother some people, just for me it was something that got in the way of my enjoyment of the book.
This book technically has a lot of intrigue and action. It is full of heists, secrets, dangerous mob men, guns, and explosions. Even though this was going on I found myself kind of bored. I don't know if it was the writing style or something else but even when heists and dangerous things were happening I found myself tempted to skim because I just wasn't into it.
Part this might have been because of the characters. Julep aside, I did not like many, if any of the other characters. This led to me not being invested in the characters and what happened to them or the story. And the romance, if you can call it that, I found did not redeem the book at all. I personally saw no chemistry between them and it was all a bit rushed,
I also did not like the ending. It was very abrupt. When everything was revealed at the end and all the life or death action happened it lasted maybe a couple short chapters and then it was over. I did not really have time to process everything. I just did not find it very complete and I found a lot of the friend struggles were not resolved. This left the reader a little unsatisfied. I also think some of the things that happened were written for an oh my gosh factor and did not actually benefit the story and actually kind of harmed it in my opinion.
I originally thought Trust Me, I'm Lying was a standalone but it looks like there is a sequel coming out next fall. Will I pick it up? I'm not sure. I probably will not, like I said I have no investment in the characters.