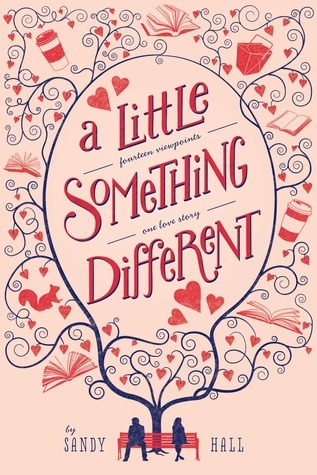 Author: Sandy Hall
Pages: 272
Genre: Young Adult Contemporary
Publisher: Swoon Reads:
Publication Date: August 26th 2014
Synopsis via Goodreads:
The distinctive new crowdsourced publishing imprint Swoon Reads proudly presents its first published novel—an irresistibly sweet romance between two college students told from 14 different viewpoints.

The creative writing teacher, the delivery guy, the local Starbucks baristas, his best friend, her roommate, and the squirrel in the park all have one thing in common—they believe that Gabe and Lea should get together. Lea and Gabe are in the same creative writing class. They get the same pop culture references, order the same Chinese food, and hang out in the same places. Unfortunately, Lea is reserved, Gabe has issues, and despite their initial mutual crush, it looks like they are never going to work things out.

But somehow even when nothing is going on, something is happening between them, and everyone can see it. Their creative writing teacher pushes them together. The baristas at Starbucks watch their relationship like a TV show. Their bus driver tells his wife about them. The waitress at the diner automatically seats them together. Even the squirrel who lives on the college green believes in their relationship.

Surely Gabe and Lea will figure out that they are meant to be together....
REVIEW:
Words can not describe how cute and adorable this book is. First you start off with that swoon worthy cover and then you get to the actual love story and BOOM my heart starts gushing and my face starts to hurt from the constant smiling.
Gabe and Lea's love story is perfect. They are both kind of shy and even though they fit perfectly together they have a hard time admitting to each other that they want more. It was so fun to watch them fall in love. I thoroughly enjoyed watching the progress of their budding romance. There are scenes where they connect and they get the same jokes and there are some very awkward scenes that leave you cringing on the edge of your seat the whole time. But not a bad kind of cringe. The kind of cringe where you are like shouting...Come on! Please! Say something! Just kiss!
Hall does a great job with make this a playful, lighthearted, feel good book with still adding in some more serious undertones. Gabe is dealing with the fall out of an incident that happened last year. This causes problems for him in his daily life and also his relationship with Lea. This storyline made the book feel more realistic but it did not take away from the fun and lovable aspect of the book.
I personally really enjoyed the fourteen different viewpoints you hear the story from. It allowed you to hear others thoughts on Lea and Gabe and see how everyone else also believes they are meant to be together. It is just one big group just rooting for them to finally get together. I was originally worried I was not going to be able to connect with the romance and characters as much because you don't actually hear from their perspectives but almost every chapter the narrator either has an interaction with one of them or watches and over hears a conversation happening between Lea and Gabe. This allowed you to see their romance grow and also understand the individual characters.
I read A Little Something Different in one sitting. I spent the whole time smiling and could not get enough. Gabe and Lea's love story had me sitting on the edge of my seat just waiting and begging for them to get together. I highly recommend this book for anyone looking for a quick, enjoyable, and beyond adorable romance.