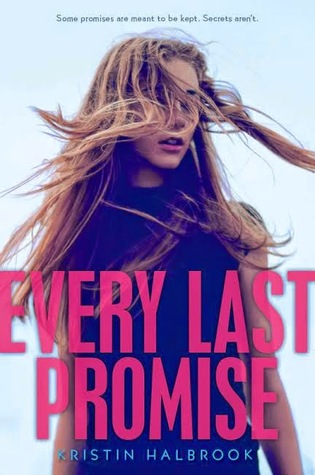 Author: Kristin Halbrook
Pages: 288
Genre: Young Adult Contemporary
Publisher: HarperTeen
Publication Date: April 21st 2015
Synopsis via Goodreads:
Perfect for fans of Laurie Halse Anderson and Gayle Forman, Every Last Promise is a provocative and emotional novel about a girl who must decide between keeping quiet and speaking up after witnessing a classmate's sexual assault.

Kayla saw something at the party that she wasn't supposed to. But she hasn't told anyone. No one knows the real story about what happened that night--about why Kayla was driving the car that ran into a ditch after the party, about what she saw in the hours leading up to the accident, and about the promise she made to her friend Bean before she left for the summer.

Now Kayla's coming home for her senior year. If Kayla keeps quiet, she might be able to get her old life back. If she tells the truth, she risks losing everything--and everyone--she ever cared about.
The thing that stood out for me in Every Last Promise was how Kristin Halbrook depicted Rape. She makes it very clear in the book that rape is not an act of sex but an act of power and violence. I thought it was very important of Halbrook to make this point since the discussion of rape has at times been very deluded in our society. I think this is very important for teens to read and learn to understand. Halbrook was able to show how difficult this violent crime was for the girl who sadly went through it and the turmoil the witness goes through. She was able to write a powerful book about the importance of speaking up.
I would say this book is definitely a character driven book. Plot wise not a lot happens. The main focus of the story is Kayla's struggle of keeping this terrible secret and the way the town and her classmates react to what happened. Since the book is character driven it is a slower read which I do not mind but I know some people do. The book is under 300 pages though. The story is told in alternating chapters where it switches back and forth between now and before. I thought this made the book more interesting because you were seeing the aftermath but were also able to see what life was like beforehand, what led up to the crime, and what really happened.
There were only two things that I did not like in this book. In the flashbacks when everybody is still friends and having fun I felt at times the author was trying to hard for the dialogue to sound like teenagers and it came off sounding unrealistic and silly at times. Also, I thought some of the reactions that happened in the book were also unrealistic and dramatic. At one point the boys actually burn down a house in retaliation and everybody just stands there and does nothing. I did see the important points/themes the author was trying to get across in these acts though so I did not dwell on it too much.
Every Last Promise is a thought provoking and character driven book about speaking the truth and standing up for what is right.