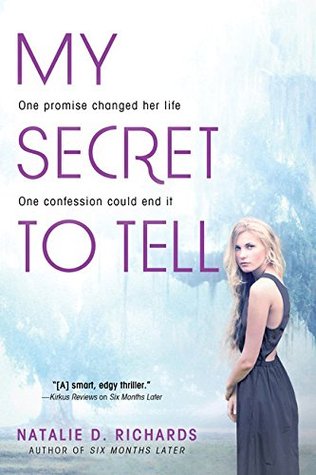 Author: Natalie D. Richards
Pages: 320
Genre: Young Adult Mystery
Publisher: Sourcebooks Fire
Publication Date: October 6th 2015
I received an Advanced Readers Copy of this book from the publisher in exchange for and honest review.
Synopsis (via Goodreads):
There was blood on his hands. Where was the guilt in his eyes?
Emmie's had a crush on her best friend's brother forever. Deacon is the town bad boy who's always in trouble, but she sees his soft side when he volunteers with her at the local animal shelter. She doesn't think he's dangerous…until he shows up in her bedroom with blood on his hands.
Deacon's father has been violently assaulted and Deacon is suspect number one. Emmie's smart enough to know how this looks, but she also knows Deacon's biggest secret—he's paralyzed by the sight of blood. She's sure he didn't do this. Or did he? Because even Deacon's own sister thinks he's guilty…
I have been a big fan of Natalie D. Richards ever since I read her debut Six Months Later last year and then went straight onto to read her second book Gone Too Far. I think Natalie D. Richards is one of the better mystery writers in young adult today and her latest book My Secret To Tell just proved this point even more.
One thing I love about Natalie D. Richards books is that she chooses storylines that have not been overdone. A lot of the time in young adult mystery people use the same plot lines again and again and it gets old. But Richards spices things up. The mystery Richards has laid out for us in My Secret To Tell is original, complex, and high stakes. She also has a knack for throwing you curve balls you did not see coming. This has happened to me in her previous and books and this curbeball ending was by far the biggest surprise for me. I honestly had no idea who was behind the scheme until they said it themselves. Richards is very good at putting your suspicions on someone else until the very end. Another thing I enjoy is that the characters are trying to solve the crime too. I think it is more fun that way because you get to figure everything out with the characters.
I was thoroughly pleased with the characters. The main character Emmie was a strong and ambitious heroine. You also get to see Emmie evolve throughout the story. Emmie becomes more confident with who she is and learns to stand up for the things and people that she cares about. Emmie's love interest Deacon is the perfect bad boy with a good heart. You also get to learn a lot about his backstory and see him evolve as well, which was important to the story. The only character that got on my nerves was Emmie's mother. The way she wouldn't let Emmie follow her dreams or do basically anything she wanted and the way she acted drove me crazy. I do know that was probably one of her purposes in the book though.
Richards does

a fantastic job balancing plot and romance. The romance in this book never took away from the main conflict but it was still satisfying and complete on its own. Emmie and Deacon have great chemistry. The two of them being on the run from the police and Deacon being the forbidden bad boy definitely added to the thrill of their romance.
If you enjoy a mystery with the back drop of a summer town I would definitely suggest picking this book up. I loved the setting of them being on the docks in a small summer town with tourists and attractions like charter boats. I also loved how Richards made the stakes higher by having the characters go on the run and hide from the police. It helped add more suspense and intrigue to the book.
My Secret To Tell did not disappoint, It was full of intrigue, mystery, romance, clues, and danger. If you are a fan of Natalie D. Richards I bet you will love this book and if you have not read her yet I highly recommend all of her books.