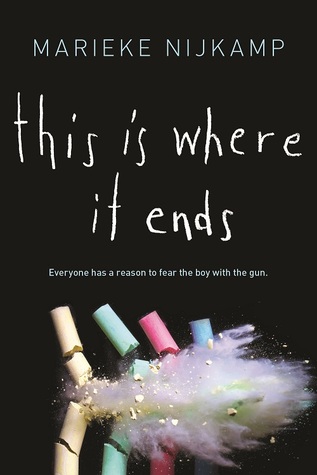 Genre: Young Adult Contemporary
Publisher: Sourcebooks Fire
Publication Date: January 5th 2016
The principal of Opportunity, Alabama's high school finishes her speech, welcoming the entire student body to a new semester and encouraging them to excel and achieve.
The students get up to leave the auditorium for their next class.
The auditorium doors won't open.
Told over the span of 54 harrowing minutes from four different perspectives, terror reigns as one student's calculated revenge turns into the ultimate game of survival.
I received an advanced copy of this book from the publisher in exchange for an honest review.
Review:
This is going to be a hard review for me to write. It seems that half of the people who read this book found it absolutely amazing and the other half found it fell flat. Sadly, I leaned more towards the later category. I was incredibly excited for this book. I love a good tough topic book and the fact that it takes place over only 54 minutes made it sound even more intense.
This book is less the than 300 pages so initially I expected it to be a fast read. I just could not get my head into it though. I ended up reading a majority of the book in smaller portions and then sat down and made myself finish the book before I could get up again. Since the book only takes place over 54 minutes you would think it would move very fast but I found it rather slow reading.
The book is told from multiple peoples perspectives. I usually love multiple POV books and I thought this would be an interest take on a school shooting since you would see if from all angles. My only problem was that each characters sections were very short. Many of them did not last more than a couple pages. I found this hard to be able to fully learn about the characters and to connect to them.
My biggest problem with the book was the shooter, Tyler. It was not necessarily his character but the fact that you never get to understand him. This book is about a school shooting and yet you do not get to learn much about the shooter. A majority of the book focuses on the other people in Tyler's life and not actually him. When it comes to an event like a mass shooting I think it is very important to understand, why? We are not given this in the book. Yes, it is obvious that there is a revenge motive in the book but what led to it? Tyler is a terrifying person. He took time and planned this whole entire event and ends up killing over 30 people. That does not just happen. I wish we had been able to see into his mind.
This book is definitely intense, emotional, and makes you think. I just think the lack of character background left me not invested in the book and ended up making the reading experience not as good as it could have been for me.