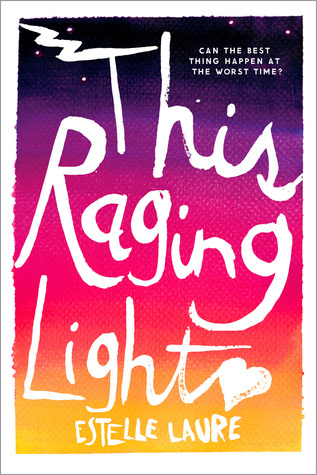 Genre: Young Adult Contemporary
Publisher: HMH Books for Young Readers
Publication Date: December 22nd 2015
Can the best thing happen at the worst time? Her dad went crazy. Her mom left town. She has
bills to pay and a little sister to look after. Now is not the time for level-headed seventeen-year
old Lucille to fall in love. But love—messy, inconvenient love—is what she's about to
experience when she falls for Digby Jones, her best friend's brother. With blazing longing that
builds to a fever pitch, Estelle Laure's soulful debut will keep readers hooked and hoping until
the very last page.

I received an advanced readers copy of this book from the publisher in exchange for an honest review.
I was immediately drawn to this book from the moment I saw the cover. The colors are
gorgeous! Then when I read the synopsis I knew I wanted to read the book. I had never read a
book like this before and I knew it was guaranteed to pull at my heart strings. When I found out
they were doing an ARC giveaway at BEA I was determined to get my hands on a copy.
I can honestly say this book met my expectations in every way. I read This Raging Light in one
day. I was so captivated by it and when I finished I could not stop thinking about the book for
days. Every part of the book from the plot to the characters captured my heart from the first
The characters were phenomenal. They were quirky and funny but strong and emotional at the
same time. The protagonist, Lucille, is a stand out character. She is a witty, brave, hardworking
girl,
trying to keep it together to create a happy life for her little sister. I couldn't help but feel
for her from the first page Another great thing about her character was how relatable she was.
She is dealing with an extreme situation but her thoughts and emotions were very universal. The
relationships depicted were what completed the perfectness of this book for me. The growing
romance between Lucille and her best friends brother Digby was sweet and engaging.The
relationship that made the book for me though was Lucille and her little sister Wren.
This is a super fast read too. The book itself is not very long and the poetic sense of Laure's
writing will having you flipping through the pages. In only 288 pages Laure somehow makes you feel so many emotions. This book had me smiling, giggling, crying, and it made my heart ache. It also left me hoping though and I think that is one of the best things an author can make their reader feel.
If you are looking for a stand out contemporary that will make you feel all the emotions I highly recommend reading this book. I have never read anything like This Raging Light and I will not be forgetting it anytime soon.