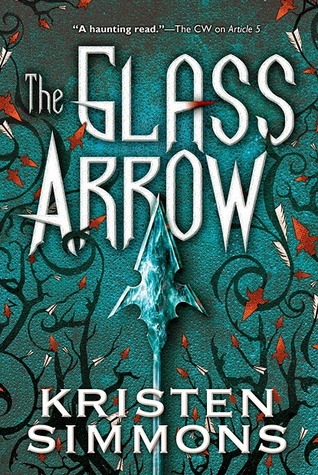 Author: Kristen Simmons
Pages: 336
Publisher: Tor Teen
Publication Date: February 10th 2015
Synopsis via Goodreads:
The Handmaid's Tale meets Blood Red Road in Glass Arrow, the story of Aya, who lives with a small group of women on the run from the men who hunt them, men who want to auction off breeding rights to the highest bidder.

In a world where females are scarce and are hunted, then bought and sold at market for their breeding rights, 15-year old Aya has learned how to hide. With a ragtag bunch of other women and girls, she has successfully avoided capture and eked out a nomadic but free existence in the mountains. But when Aya's luck runs out and she's caught by a group of businessmen on a hunting expedition, fighting to survive takes on a whole new meaning.
I was a little worried going into The Glass Arrow because back in December I read The Jewel which has a similar plot about woman being auctioned to others to breed that I did not like at all. Thankfully I found no resemble to The Jewel in this book. This plot is handled completely different in The Glass Arrow and is actually not the main focus.
I found this book some what empowering for girls because the main focus and theme I saw present was that girls are their own person. Woman should not be owned or controlled by others. The main character spends the whole book fighting for these rights for woman. I thought this was a fantastic theme that Simmons conveys in this world.
The protagonist Aya was the stand out part of the book for me. Like I said above about woman empowerment, Aya embodies all of that perfectly. She is a fighter and an individual. Family is important to her and she will always fight for them and even sacrifice herself for the ones she loves.I also love seeing girls who are able to fight, take care of themselves, and are not afraid to get dirty. Aya is from the wilderness and because of this she is trained to fight in case of an attack, she knows all about plants and what they can do for your body, she can hunt and knows hot to survive. I loved seeing a strong girl surviving in the wilderness.
About half of the book takes place in the city where Aya is held while captured and the other half takes place out in the woods. The parts of the book where Aya was in captivity I found somewhat uneventful and slow. I was waiting for something to happen and was kind of just dragged along. But I am glad that I dragged along because once the story transitions into the wild it was a great atmosphere. This is where the action and the adventure starts and I found it very enjoyable.
Overall I found The Glass Arrow a entertaining start to a new adventurous series with a stand out character that will inspire young girls.