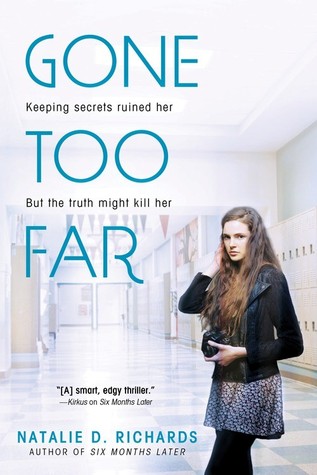 Author: Natalie D. Richards
Pages: 304
Genre: Young Adult Mystery
Publisher: Sourcebooks Fire
Publication Date: January 6th 2015
Synopsis via Goodreads:
Keeping secrets ruined her life. But the truth might just kill her.

Piper Woods can't wait for the purgatory of senior year to end. She skirts the fringes of high school like a pro until the morning she finds a notebook with mutilated photographs and a list of student sins. She's sure the book is too gruesome to be true, until pretty, popular Stella dies after a sex-tape goes viral. Everyone's sure it's suicide, but Piper remembers Stella's name from the book and begins to suspect something much worse.

Drowning in secrets she doesn't want to keep, Piper's fears are confirmed when she receives an anonymous text message daring her to make things right. All she needs to do is choose a name, the name of someone who deserves to be punished...
REVIEW:
I thoroughly enjoyed Natalie D. Richards' debut novel
Six Months Later.
When her sophomore novel hit shelves I immediately scooped up to be taken on another whirlwind thrilling ride.
I expected this book to have a lot of the same feel of Six Months Later but I did not always find this. Six Months Later was much more of a high-stakes and life or death thriller. Gone Too Far is much more tamed and mainly based around high school social groups and popularity. I would say it has a small hint of a Pretty Little Liars feel with all the anonymous texts and blackmail. I still thoroughly enjoyed the story it just wasn't what I was expecting based off of Richards' debut novel.
I enjoyed the main character, Piper. Piper is a photographer and has a spot in the artsy clique, since I tend to lead more to this side I really enjoyed reading it. I have not read a lot of books lately that take place within an artistic group of young individuals. Piper becomes a sort of assistant vigilante after she feels guilt over a fellow students suicide. At first she is very satisfied with exposing these classmates who she believes have committed wrong doings but things soon start to spiral out of control as police get involved and students and teachers lives start to fall apart due to their vigilante "pranks".
I also liked Piper's love interest Nick. The thing that I liked most about him was that he helped Piper see that not everything is as it seems, especially when it comes to people. He helps show her that everybody has things going on in their lives too and that people can make mistakes and still be a good person. He helped her see past stereotypes and I give Richards' a lot of credit for putting that storyline into the book because most people still believe in stereotypes or at least follow them in high school. I was very glad she brought that subject to light. The one thing I had some trouble with was Nick and Piper's relationship. It seemed that before the start of the book Nick and Piper had never really talked and then all of a sudden Nick is pursuing her out of the blue. I did think they had chemistry and Nick brought out the good qualities in Piper but I just had a hard to time believing in and falling for the romance after their abrupt start.
The mystery itself was very well planned out. I thought it was many different people the whole time and so did Piper. Their are little clues that are actually just deceiving and lead you off the track of the vigilante. You will never guess who they are. I know I can be slow at finding the culprit but everybody else who I know has read this has also said they never saw that coming. And if you are like me and were hoping for a little more life or death action like in Richards' debut you do get one fight scene at the end that puts Piper's life in danger.
Natalie D. Richards' sophomore novel did not disappoint. I wish there had been some more high-stakes action but she did a great job of turning her mystery into a way to highlight the problems with stereotypes, how people are perceived and the issues with popularity in schools today. She also did a great job of keeping me guessing the whole time. I am very excited to see what thrilling ride she will take us on in her next novel.