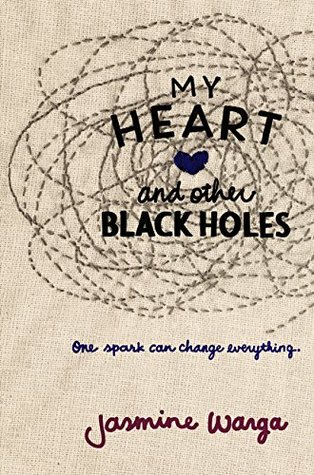 Author: Jasmine Warga
Pages: 320
Genre: Young Adult Contemporary
Publisher: Balzer & Bray
Publication Date: February 10th 2015
Synopsis via Goodreads:
A stunning novel about the transformative power of love, perfect for fans of Jay Asher and Laurie Halse Anderson.

Sixteen-year-old physics nerd Aysel is obsessed with plotting her own death. With a mother who can barely look at her without wincing, classmates who whisper behind her back, and a father whose violent crime rocked her small town, Aysel is ready to turn her potential energy into nothingness.

There's only one problem: she's not sure she has the courage to do it alone. But once she discovers a website with a section called Suicide Partners, Aysel's convinced she's found her solution--Roman, a teenage boy who's haunted by a family tragedy, is looking for a partner. Even though Aysel and Roman have nothing in common, they slowly start to fill in each other's broken lives. But as their suicide pact becomes more concrete, Aysel begins to question whether she really wants to go through with it. Ultimately, she must choose between wanting to die or trying to convince Roman to live so they can discover the potential of their energy together.
REVIEW:
My Heart and Other Black Holes is a heart wrenching and beautifully written book.
This book had me writing down quotes like crazy. It seemed on every other page Aysel would say/think something that just made me stop and think or admire the writing. There are tons of stunning quotes about kinetic energy, music, emotions and more. The girls over at
Epic Reads
actually told me they are planning on doing a post on the best quotes of the book, so stay on the look out for that! Beautifulness aside, the book was in general well written, easy, and fast to read.
I did have one struggle that held me back at the beginning though. At first I had a hard time seeing the chemistry between Aysel and Roman. When they start out as suicide partners that's really all they are, maybe leaning towards a friendship and I had a hard time seeing how this was going to progress to a romantic relationship. They just didn't seem to work together for me. But as the book goes on romantic hints are dropped, they get to know each other better and so do you. While they open up to each other you start to see the romance build and start to realize they are good for each other. This happened about halfway through the book for me.
When you go into this book do not expect a romance with grand gestures or steamy make out scenes. Aysel and Roman do fall in love but the fact is these are two sad and very depressed individuals. I was glad to see that Warga portrayed the romance this way because it was realistic. There are small genuine scenes where you get to see them make each other smile. I liked these subtle scenes because it gives you a tingle of hope that they can save each other. There is one "bigger" kiss scene and Roman does win Aysel a stuffed animal at a carnival but those are the biggest physical romantic gestures you see. Roman is determined to go through with the suicide pact so in his mind Aysel and him won't go on past these couple weeks. There is a romance and it really is beautiful it just is not as intense and steamy as in other young adult novels today.
I absolutely loved seeing Aysel's mind slowly change. It was so hopeful for a teenager to read and see things get better for her. This book also makes you think about the wonderful people you are thankful for in your life. Spending time with Roman and the happiness she feels with him helps her see a future for herself and she tries to do the same for him.
My Heart and Other Black Holes is a magnificently written book about the power of love and that shows teens that things get better.
P.S. Have you looked at the cover yet? It is just as gorgeous as the writing!