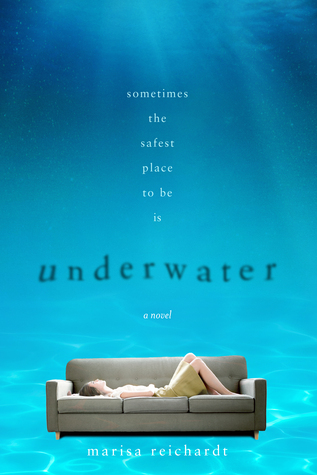 Publisher: Farrar, Straus, & Giroux
Genre: Young Adult Contemporary
Publication Date: January 12th 2016
"Forgiving you will allow me to forgive myself."
Morgan didn't mean to do anything wrong that day. Actually, she meant to do something right. But her kind act inadvertently played a role in a deadly tragedy. In order to move on, Morgan must learn to forgive—first someone who did something that might be unforgivable, and then herself.
But Morgan can't move on. She can't even move beyond the front door of the apartment she shares with her mother and little brother. Morgan feels like she's underwater, unable to surface. Unable to see her friends. Unable to go to school.
When it seems Morgan can't hold her breath any longer, a new boy moves in next door. Evan reminds her of the salty ocean air and the rush she used to get from swimming. He might be just what she needs to help her reconnect with the world outside.
Underwater is a powerful, hopeful debut novel about redemption, recovery, and finding the strength it takes to face your past and move on.
Review:
I have been trying to plan this review out in my head for 2 weeks now and I just can't seem to put my feelings into words. I knew I had to write a review though because I really want to help get this book into more peoples hands. This book turned out to be everything I hoped it would be and more.

The part of the story that really hit me the most was the premise and how the author was able to portray it. Morgan is a teenager who has experienced a terrible tragedy. She is now afraid to live in this world because she does not have control over the things that happen as a result she is terrified to leave her apartment where she can control what happens. Even if you cannot connect to Morgan's specific experience I can almost guarantee you can connect to how she is feeling. I personally have suffered with depression for a long time and about halfway through this book I started crying because at points I felt like Marisa Reichardt took what I have been feeling and thinking in my head and put it on paper. I was able to connect with this book on so many levels and as a result I believe it really helped me to be able to see someone feeling what I have been feeling. Reichardt was able to depict depression in such an honest way and I am so thankful when authors do that.

I absolutely loved the characters in this book. They added so much life and personality to the story. Morgan was fantastic and I connected with her on so many levels. This book also focuses on family a lot. I really enjoyed reading about the dynamics between Morgan, her mom, and her little brother. Then there is Evan. Evan was a phenomenal addition to the story he was understanding and honest but was also funny and helped bring out the best in Morgan. Evan definitely helps Morgan come out of her shell but in the end it is Morgan who saves herself and I thought that was important to see. This book made me cry and ache but with these colorful characters it was also able to make me smile and laugh too.

I liked how Reichardt incorporated the incident that led to Morgan's PTSD. Morgan goes through a horrible tragedy but you are not told upfront what happened. Small parts of the story are revealed over time and that added a sense of mystery and page turning to the book.

I read Underwater at a time in my life when I needed to and it helped me so much. This is a contemporary book that I will be recommending for years to come. I really hope others out there will pick up this book have a good cry and be smiling by the end with a renewed sense of hope and knowing that you are not alone.