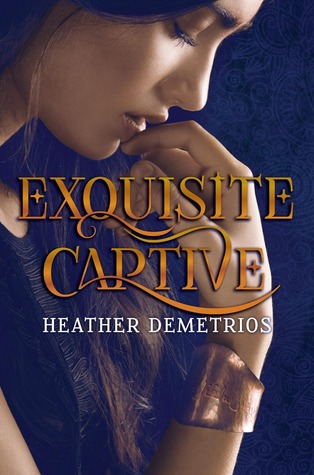 Author: Heather Demetrios
Pages: 480
Genre: Young Adult Fantasy
Publisher: Balzer+Bray
Publication Date: October 7th 2014
Synopsis via Goodreads:
Forced to obey her master.
Compelled to help her enemy.
Determined to free herself.

Nalia is a jinni of tremendous ancient power, the only survivor of a coup that killed nearly everyone she loved. Stuffed into a bottle and sold by a slave trader, she's now in hiding on the dark caravan, the lucrative jinni slave trade between Arjinna and Earth, where jinn are forced to grant wishes and obey their human masters' every command. She'd give almost anything to be free of the golden shackles that bind her to Malek, her handsome, cruel master, and his lavish Hollywood lifestyle.

Enter Raif, the enigmatic leader of Arjinna's revolution and Nalia's sworn enemy. He promises to free Nalia from her master so that she can return to her ravaged homeland and free her imprisoned brother—all for an unbearably high price. Nalia's not sure she can trust him, but Raif's her only hope of escape. With her enemies on the hunt, Earth has become more perilous than ever for Nalia. There's just one catch: for Raif's unbinding magic to work, Nalia must gain possession of her bottle…and convince the dangerously persuasive Malek that she truly loves him. Battling a dark past and harboring a terrible secret, Nalia soon realizes her freedom may come at a price too terrible to pay: but how far is she willing to go for it?

Inspired by Arabian Nights, EXQUISITE CAPTIVE brings to life a deliciously seductive world where a wish can be a curse and shadows are sometimes safer than the light.
REVIEW:

Exquisite Captive is an sinful, sexy, fantasy read full of strong characters, action and intrigue.
I had never read a book about Jinni's before so I was very curious and excited to pick up this book. It did not disappoint. The plot is interesting because it actually focuses on two dilemmas. It focuses on The Dark Caravan, the Jinni slave trade, and the revolution happening back in their own world. I personally preferred the plot of The Dark Caravan and I am interested to see which plot will take center stage in the upcoming books.
I loved the characters in the book. Especially the protagonist Nalia. She is a strong, dedicated, yet vulnerable girl. Even though I'm not off fighting for the future of Jinni I still found it very easy to relate to her emotions. She was a great role model full of strength too. Even though she is put in the situation of being in the slave trade and being "owned" by another she still refuses to bend her beliefs and she doesn't give in, she keeps fighting for herself and her family. I also really was intrigued by her master, Malek. I love a flawed character with a tortured soul and that is what Malek is. His character kept you curious and made you struggle with whether or not you wanted to like him.
I enjoyed the setting of the book at the beginning. You get to live in this glamorous world of Malek's. It is a tempting world of luxury. But do not worry there was still plenty of room for action in this prestige world. There are many life threatening fight scenes to keep you turning the pages. You also get some flashbacks too Nalia's past life back home in Arjinna. I do wish there had been more of an introduction and description of Arjinna though. You do get glimpses of it from the flashbacks but it was never fully depicted and explained. I am hoping some of the next book my take place there and that will help clear some things up.
There was one thing that I have to point out that put a downer on the story. The story had some serious insta-love. Two of the main characters, Nalia and Raif, first meet and hate each other and then all of sudden the next meeting they are hugely attracted to one another and can't stop thinking about each other. Then within days they are professing love and risking their lives and what they have worked for to protect one another. I personally did not even like the two of them together, so that made the insta-love even worse for me.
Overall, Exquisite Captive is a captivating, interesting, and seductive read full of complex yet believable characters about Jinni's and their fights in their own world and on earth.